Some time ago, I chanced upon these in the departmental store but didn't get them til a looong time later. (persuaded by all the lovely swatches of it that I saw finally!)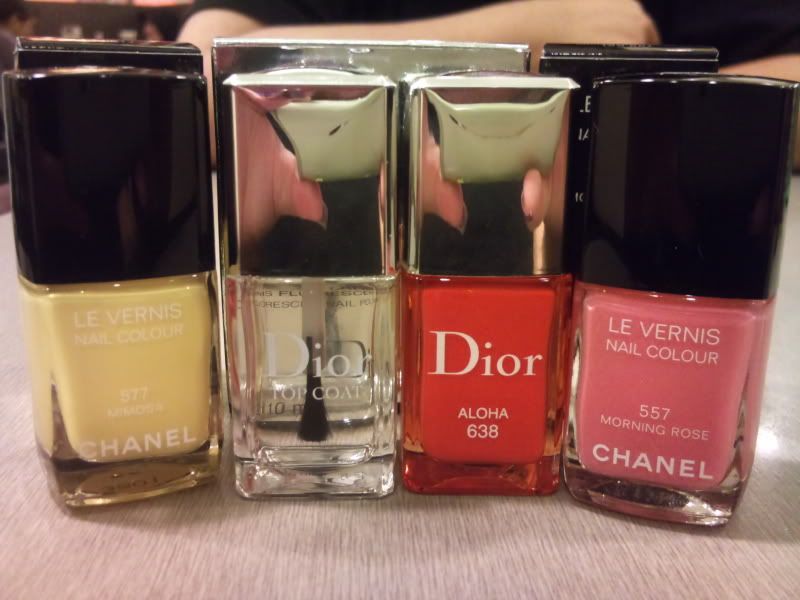 Chanel Mimosa (to be covered in a later post), Dior's Top Coat that came with Aloha, and Chanel's Morning Rose. (please excuse my horrid reflection =)
I did a mani with Aloha and Morning Rose.
Aloha is a beautiful eye-searing bright orange
, a color that's absolutely perfect for summer. Morning Rose is a lovely rose pink with gold shimmer in it.
Dior's top coat was a lovely thing to work with. It's less goopy than Seche with a watery consistency, so it took a bit to get used to since I'm too used to dropping a fat dallop onto my nails with Seche. It dries almost as fast as Seche (surprise surprise) but I found it's shine factor to be a little lacking. I accidentally took in a HUGE sniff of it while I was top-coating the mani and it smells strongly of alcohol... which based on your preference, could be better or worse than Seche lol. I only wish Dior sold this separately. I think I'm quickly becoming a fan of this top coat.

Polishes wise, I'm really happy with how Aloha and Morning Rose turned out but the brush Chanel uses drove me literally up the wall. I found it difficult to control and as a result, had to three coat Morning Rose to cover the bald spots I created with dragging the brush. Dior's on the other hand, was a joy to work with. I think I might have a preference for wide brushes even though I have tiny fingers.